Pinball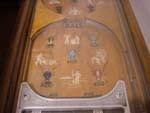 1 Erbü, year 1930
Pingerät without paddles, so to speak, there is a bullet shot and you control its destiny only by skill of the ball launch.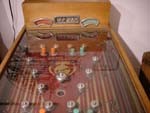 2 Tura, year 1944
Coin - without paddles with several balls and "rotating dials" as a predecessor of counters.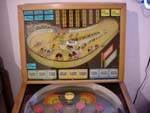 3 Criterium - Accurate, year 1952
German device already with flippers, even with contacts without bumpers, now light displays for points - no counter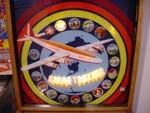 2. Globe Trotter by Gottlieb, year 1951
Million pinball without mechanical displays, lamp scor bord. Devices still with wooden frame.
Globe Trotter, 11/51,
1 kick-out hole,
2 reverse lower flippers,
2 normal upper flippers.
Roy Parker playfield and backglass woodrail pinball
Only 910 pcs Made
Type: Roy Parker
Design: Wayne Neyens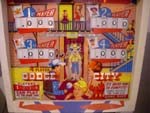 6 Dodge City Gottlieb, year 1965

3175 produced,
4 player

4 piece mechanical scorboard
2 kick-out holes,
2 paddles

under-the-playfield roto-target ("roto-lights") that shines through playfield inserts,
mechanical backbox animation (dancing cowboy). animated device with ball lifter
Type: Roy Parker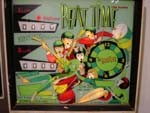 8 Beat Time by Williams, Year 1967
2 player,
two 2" Flippers,
five Pop bumpers,
two Slingshots,
one Rotating targets with four targets (neat feature),
two Standup targets,
Left and right dual outlanes. Williams Beat Time took advantage of the musical group The Beatles, and used this unlicensed pinball, changin the name of the group to The Bootles. But clearly from the art they are representing The Beatles. There is also a reissue backglass of this game available with "The Beatles" on the glass instead of "The Bootles." The game itself is nothing to really look at, in fact it has the ugly pointy art and a rather sick green color. Game play is decent if you can get past the art work. But the Bootles/Beatles connection makes the game somewhat cool. They made 2,802 Williams Beat Time pinballs, .this 2 Player unit of Williams with even shorter flipper arms (60s) and with the Beatles on the back glass. For copyright reasons The Bootles was written in the green clock.
with an overand under machanical scorboard
Type: Jerry Kelley
Design: Steve Kordek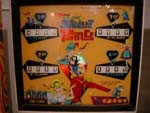 7 Student Prince Williams,
Year 1968
Zipper Flipper and a swinging target.
Design: Christian Marche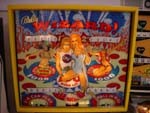 8 Wizzard of Bally, year 1975
A pinball classics, Popoper Tommy by The Who and Roger Daltrey
and Anne Margret as a motif on the back glass. There was also the pop song "Pinball Wizard". As an effect, flags and spinners. Style: Dave Christensen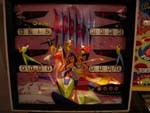 7 Agogo Williams, Year 1966
4 players,
4 paddles,
a roulette wheal (Cap. ball spinner) as a special feature /
Williams Electronic Mfg. Co. (1958-1967), the A Go Go maker, released 118 different machines under this trade name,
starting in 1958.
Other machines made by Williams Electronic Mfg. Co. (1958-1967) during the time period A Go Go was produced include Full House, Top Hand, Big Strike, Big League, 8 Ball (1966), Double Play, Eager Beaver, Ski Club, Hollywood Driving Range,
and Pot 'O' Gold.
innovation. Art Theme: Dancin Happyness
Type: Jerry Kelley
Style: Standard Clark