I collect already are my apprenticeship (1976) as a radio and television technician for music boxes - so almost 35 years. My education from the tube technology to the audio and video electronics Master comes to me for repairs to property.

Meanwhile, the collection includes over 25 boxes and have caused a lack of space that I boxes which are also similarly sell.

In the collection of the following boxes and sometimes it "double" are available:

by the ROCK-OLA Model No. 1, Year 1935 which 12 shellac changes to the CD box of the Wurlitzer "One More Time" Bubbler of the 80's / 90's.

some top GUSTO little piece you see below and soon are my creations PINDIGILAND
as a ELVIS Ami box or BEATLES Box and of course 50 years ROLLING STONES a corresponding box ready:

Seeburg Symphola, 1944 - was the Ludwig Boltzmann Institute z.Vfg. provided - for schallaburg there gabs copies from Pindigiland for great Sixties exhibition BEATLES PILL Revolution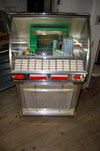 Seeburg W, 1954 - very good condition and sound - even a Seeburg R is there, with the "icicles look"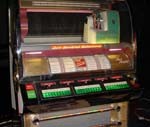 Seeburg V200, 1956 - Queen of the boxes with the selector drum, round rods, round glass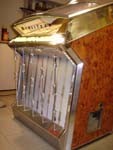 Wurlitzer 2500, 1961 - the last beautiful Wurlitzer with visible plate game - the one with the great "balusters"
AMI I 200, 1958 - the Queen of AMI - with really a lot of good CHROME

 

Rock-Ola 1455, 1957-200 Selections box dream state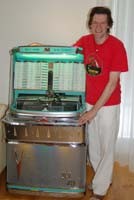 Gustostückerl of IMA - AMI J 120 JENSEN drive, NSM fanfare, BAMBIBOX with Seeburg drive, interchangeable container for LP's and similar.